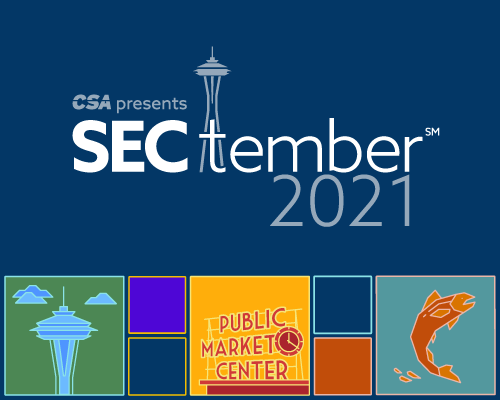 About The Event
Reunite with peers and make new connections in-person at SECtember, a premier event for the cloud and cybersecurity communities from the Cloud Security Alliance. Held in Bellevue, adjacent to CSA's home city of Seattle, this signature event is focused on educating stakeholders on the key issues and trends in cloud computing today. The COVID-19 pandemic created an instant demand for cloud-based solutions requiring the majority of organizations to accelerate their journey to the cloud. SECtember will deliver the education, tools and knowledge required to make this harder, faster pivot to the cloud. With its proximity to the giants of cloud computing and the headquarters of several leaders within their respective industries, SECtember brings together thought leaders from across the Pacific Northwest to share their insight and provide a global perspective on critical strategic cloud and cybersecurity concerns.
CSA began defining cloud security in 2009, before most organizations were even in the cloud. Today, cloud computing is the world's primary mode of computing — it serves as the foundation for cybersecurity at-large and the means by which we secure all forms of computing. As COVID-19 highlighted and accelerated the need for secure, cloud-based solutions, SECtember will serve as the gathering place for all cloud and cybersecurity professionals to share experiences from this unprecedented time and address the rapid cloud adoption and skills gap accelerated by the pandemic.
More than ever our industry needs community. Come together in-person again with security professionals to share, learn, and listen to one another. We're excited to host you in September in Bellevue!
Lugar
11100 NE 6th St. Bellevue, WA 98004
Our Speakers
Christopher Krebs
Headlining this year's SECtember conference is Christopher Krebs, Founding Partner of Krebs Stamos Group and Former Director of the Department of Homeland Security's Cybersecurity & Infrastructure Security Agency (CISA). Mr. Krebs will share his insights on the current status and future of cybersecurity in an informal fireside chat, answering questions provided by the CSA community.
Regístrese en línea, obtenga su boleto, reúnase con nuestros inspiradores oradores y especialistas en el campo para compartir sus ideas.